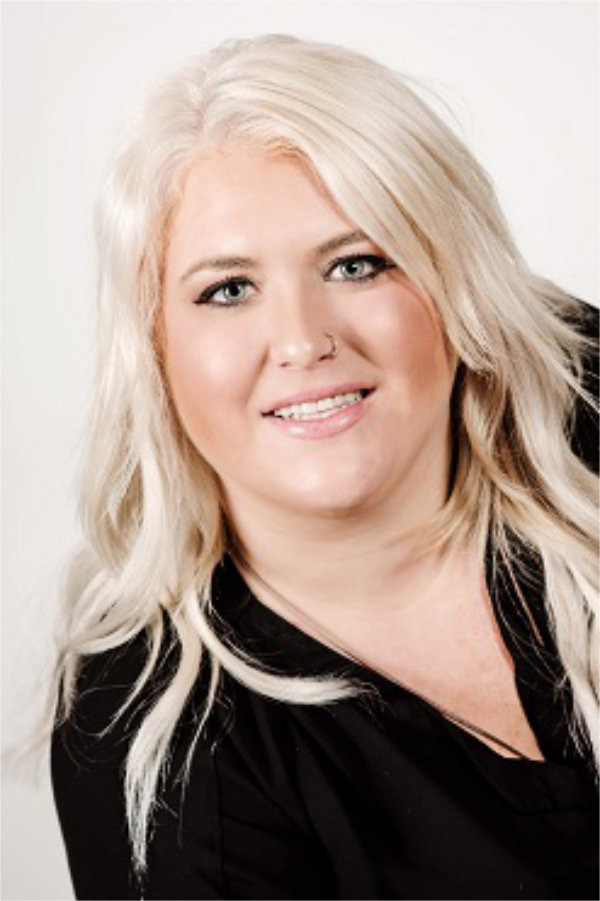 Specializing in:  Creative Color, Transitional Color, Dimensional Color, Men's Cuts, Creating classic and edgy looks with individual/personable flare, Finishing and Styling, Men's cuts, Precision Cutting and Razor Techniques, Upstyling and Heat Tools, Adhesive Extensions, Facial Waxing, and Makeup Applications.
Certifications & Additional Education:  
Redken Certified Hair Colorist
Men's Design & Barbering w/ Redken Artist Shawn Matthew Stearns (September 2021)
Creative Coloring with Balayage" with Global Redken Colorist Sami Skinner (June, 2021)
Advanced Balayage with Sean Godard, Redken Global Artist/NAHA Winner (September, 2019)
Fundamentals of Design w/ Redken Global Educator Brayden Pelletier & Eunice Aguilar (June, 2019)
Advanced Color Placement with Eric Ray, Redken NYC and Vicki Laris, Redken NYC/Celebrity Colorist (September, 2018)
Total Design Immersion with Redken's Global Artistic Ambassador & Sassoon Lifetime Achievement Award Recipient, Sam Villa (June, 2018)
Design Trends with Hugo Urias–Global Redken Artist, Los Angeles (Sept, 2017)
Balayage/Hair Painting W/ Redken NYC Artist Tina Calzaretta (June, 2017)
Redken International Symposium (Las Vegas, Jan 2017)
Pureology PureForm Design (Cutting) class with National Artist Michelle Patton, specializing in textured bobs, short women's crops, and razor cutting (Oct 2016)
Cutting and Coloring for Curly hair w/Ryan Morgan & Tara Gardner (June, 2016)
Redken Artist Ellen Devine and Vicki Laris brought their exceptional skills of amazing hair color, design and finishing for the upcoming year (Sept 2015)
Three day class focusing on the latest design and hair color trends including: balayage (hi-lighting hair through hair painting) to mid-length and long bobs ("Lobs") with Redken's Award Winning Educational Facilitators, Ryan Morgan and Brayden Pelletier (June 2015)
Redken Symposium, Las Vegas (Jan, 2015)
Current Trends and Color Class with Lauren Hagen (Nov, 2014)
Advanced Cutting Class with Internationally Renowned Redken Artist Sam Villa (August, 2014)
Redken Haircolor Obsessed Trends specializing in crown lights with Internationally renowned artist, Justin Isaac (April, 2014)
Redken Haircare Obsessed with Redken Artist, Leah Hanson (March 2014)
KeraStraight Smoothing Treatments (2012)
MAC Make-Up Trends (2012)
Dermalogica Skin Care (2011)
CARA Cosmetics Makeup Trends (2011)
Graduated from The Salon Professional Academy (Tampa, FL 2011)
Getting to know Kelly…
Who inspires you?
"My grandmother has been my biggest inspiration in life. She always encouraged me to persevere, regardless of what life throws at you."
What do you like most about working at Salon West?
"I love that Salon West is a team. It is wonderful to be surrounded by a group of individuals who support each other. At the end of the day, we are all in this together. "
What is something most people don't know about you?
"I am terrified of frogs."
What is your beauty philosophy?
"Beauty to me is about feeling comfortable in your own skin. That, or a kick-ass red lipstick" – Gwyneth Paltrow
What is your guilty pleasure?
"Iced coffee and hot Cheetos."
Which celebrity do you think always has great hair or renders great style?
"Miranda Lambert, Carrie Underwood, Kesha"
What's your favorite music?
"A bit of everything: Zac Brown Band, Kenny Chesney, Mumford and Sons, Blink182, Fall Out Boy."
What is your favorite quote?
"How you make others feel about themselves says a lot about you."
"Don't let people's compliments get to your head and don't let their criticism get to your heart"
What is your favorite food or local restaurant?
"Pizza and Chipotle Mexican Grill."
What is your favorite movie?
"Talladega Nights: The Ballad of Ricky Bobby, The Notebook."